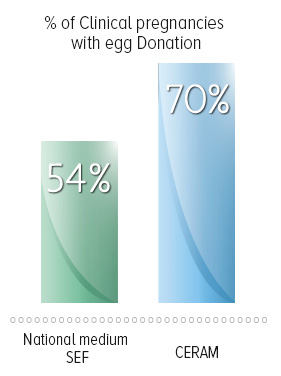 In order to provide you with all our data and with the greatest possible transparency, Ceram team performs a statistical analysis of all our treatments year after year.
When interpreting the results we must take into consideration that each case and couple are different. Because of this reason we must find a way to maximize the chances of pregnancy in every particular case.
First quarter results in 2014
The following are the accumulated results of 2014 in comparison with the collected national medium in the last registry published by the Spanish Society for Fertility (SEF) www.registrosef.com
The results on the right hand side show the clinical pregnancy rates of the egg donation treatments performed during the first quarter of 2014 at Ceram in comparison to the national average.
Another important aspect about our latest statistics is that in 95% of the egg donation cases, the embryos reach the transfer phase at Ceram.